Cakes
I love making things beautiful. The reason I prefer baking over cooking. I have been playing with cake decorating for a long time. Just on my own. I bought some icing bags and tips and whipped up a couple of creations. Well, now I'm finally enrolled in a cake decorating class! It is a four-week Wilton class taught at Hobby Lobby. I found a 40% off coupon on Hobby Lobby's website, so I bought the big cake decorating caddy with 50 tools. It's fantastic. This Saturday we will be decorating our first cake. I'll post pictures of my latest works of art. Here are two that I did in the last few years.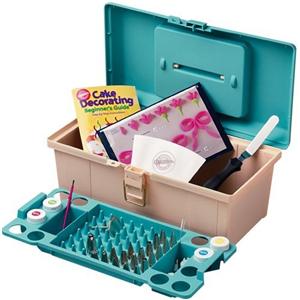 My awesome new cake decorating tools. I've always loved a good tool box. I might be an organizational freak.
This one was for Mother's Day last year. My mom's favorite flower is the Hydrangea, so it's supposed to look like that. My cake cracked down the middle, so this one was a challenge.
This was the girls' 1st birthday cake. Homemade banana cake with cream cheese icing. This was my first attempt at a specific design on a cake.
Kiddos
The girls have been growing up like crazy lately. They went to a birthday party Sunday night and Julia gave Amelia a hug TWICE! We'll pretend that she didn't hit her sister directly after the first hug. Amelia has recently learned how to say, "Thank you." She does it unpromted almost everytime I hand her something she's asking for. It's precious. Both girls recently learned to say, "I you" (their version of "I love you") and "Happy to you" (their version of Happy Birthday to you). They are pretty stingy with the "I love yous", but it's pretty darn cute when they say either.
Last night shortly after the water finished draining from the tub, I noticed that Amelia had an awfully serious look on her face and was being quite still. Considering that we had a "pooping incident" a couple nights ago, I didn't want to take any chances so I swooped her up and sat her on the toilet. Jonathan took Julia into the living room so Amelia wasn't so distracted and we read her potty book for awhile. Then she actually peed in the potty! We cheered and she was happy to get to wipe, flush, and wash her hands. I braved a pair of Elmo panties on her in lieu of her diaper thinking she could make it an hour or so until we put the overnight diaper on her. Wrong! She soaked through the panties. She soaked through the fleece footed pajamas and there was a puddle on the floor. How can such a little person have so much pee?!?! So we probably aren't anywhere close to potty-trained, but we are making progress.
Attacking Daddy.